Happy Colorado Recycles Week and America Recycles Day!
Colorado Recycles week is November 13th-17th and America Recycles Day is November 15th this year.
During Colorado Recycles Week, we are taking to LinkedIn, Facebook and Twitter to highlight the success of our members. Follow us on social media to be part of the celebration!

If your organization has an accomplishment or highlight you would like us to post on this page, our calendar, or social media, please send us a short write up and any images you would like us to include!
Thank you to our members for the great work across the state and nation you are doing to improve Recycling!
We are so fortunate to have the many amazing recyclers, composters, and sustainable businesses that we do in Colorado. Recently we were able to take tours of a few recycling facilities around the state. Join us this Recycles Day/Week as we take you on a journey, piecing together the story of recycling in Colorado.
First Stop ♻️ 

Swire Coca-Cola & Boulder County Recycle Center
Coca-Cola, a producer here in Colorado, has committed to making 100% of their packaging recyclable by 2025 and will use at least 50% recyclable material in their packaging by 2030. They also hope to collect & recycle a bottle or can for each one that they sell by 2030. At the Swire Coca-Cola bottling facility in Denver, these initiatives were evident as we walked through & were able to witness the process of recycling bottles and cans on site. Learn more about Coca-Cola's Intiatives!
The Boulder County Recycle Center or "MRF" is where your collected single stream materials are sorted using conveyer belts, people, and AMP Robotic's AI technology. The facility processes over 60,000 tons of material a year. In Boulder, residents can also visit the Eco-Cycle CHaRM facility that recycles hard to recycle materials and Resource Central where reclaimed materials are collected and resold just across the street!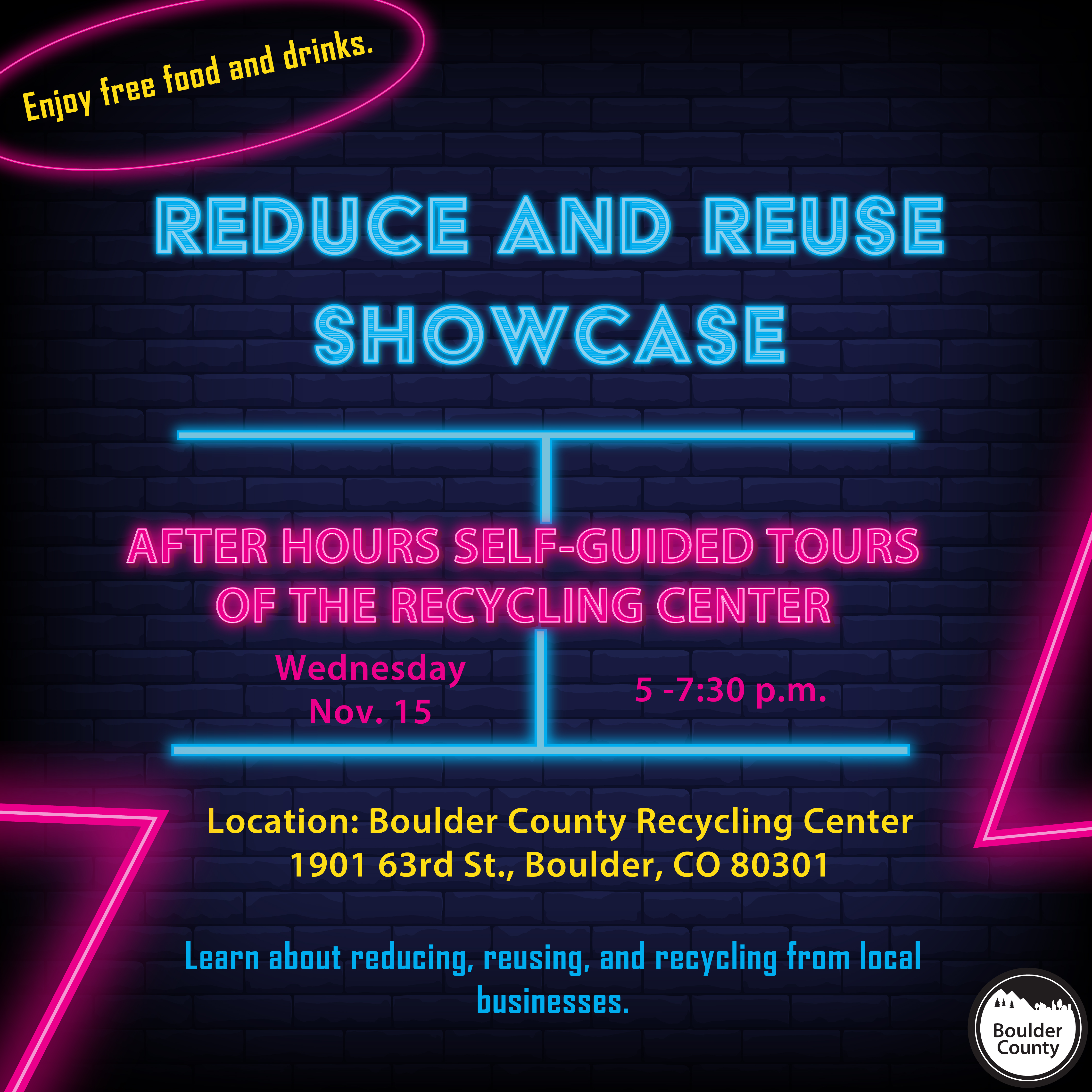 Boulder County Resource Conservation Division
Boulder County has been busy this year doing tours. So far they have already done about 70 tours with close to 1100 attendees! Chandra Valenza, Boulder County Community Outreach Manager, said she loves doing tours of the recycling center because people get to witness first hand what happens with their recyclables when they leave the curb. It's during those tours and the conversation that they have see behavior changes.
The Boulder County Resource Conservation Division is celebrating America Recycles Day on Wednesday, Nov. 15 with a Reduce and Reuse Showcase along with after business hours self-guided tours of the Boulder County Recycling Center, 1901 63rd St., Boulder.    
Enjoy a fun night of mingling, touring the facility, and learning from local businesses about reducing waste, reusing, and recycling. Food and drinks will be provided. Businesses you'll hear from include Nude Foods, r.World, Boulder U-Fix-It, and the St. Julien.
Registration is required by visiting America Recycles Day at the Boulder County Recycling Center Tickets, Wed, Nov 15, 2023 at 5:00 PM | Eventbrite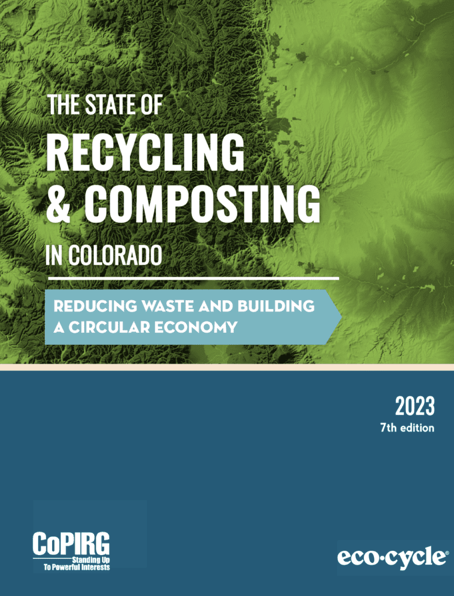 Eco-Cycle's 7th Annual State of Recycling & Composting Report
Eco-Cycle and CoPIRG Foundation announce the release of the 7th annual  State of Recycling and Composting in Colorado Report. This year, they expanded the report to examine the 'three R's'—reduce, reuse, and recycling/composting. While reporting that Colorado's recycling rate remains far below the national average, they highlight examples of nation-leading state policies, local actions, and entrepreneurial business models that could help build a statewide circular economy and vault Colorado to the top of the recycling world in the next five years.
Learn more about reducing, reusing, and recycling in schools and communities across Colorado. View the Executive Summary and the full report at http://www.ecocycle.org/sorc.
SECOND STOP ♻️ Summit County 
Next we head into the Rocky Mountains of Colorado to visit the Summit County Resource Allocation Park or SCRAP. The SCRAP facility hosts the landfill, recycle center & High Country Composting facility for this mountain region of the state. With the support of the High Country Conservation Center, Summit County is becoming a leader in waste diversion!
Summit County has one of the most beautiful landfills you will ever see! Out of site from residents below, the bustling waste diversion activities look out to a view of snow-topped mountains and yellowing aspens.
The Summit County region offers both curbside and drop off recycling to residents. Breckenridge & Frisco look to add "Pay as you Throw" programs this year that will allow residents to choose the size of their trash bin. The smaller your trash bin the less you pay! This will hopefully help increase recycling rates and decrease recycling costs to residents. These communities will also introduce Universal Recycling for HOAs and businesses that will increase recycling rates and access. Learn More about Recycling in Summit County!
THIRD STOP ♻️ Clean Valley Recycling in La Junta
In the Southeast corner of Colorado, where the tarantulas roam, you will find an abandoned sugar mill transformed into the Clean Valley Recycling Center. As it says in its name, this is one of the CLEANEST recycle centers in the state. Why is that you ask? Everything is sorted by hand! No conveyor belts, no AI technology, just a few employees, volunteers, and students who believe in recycling.
Dee started Clean Valley Recycling in 2011 with the hopes that they could help promote recycling and divert waste in their rural region of the state. Today, Clean Valley offers both curbside pickup & drop off recycling services to residents. Materials are collected from homes & businesses in reusable bags, dumped onto sorting tables, and separated into their correct material bins, all by hand. Both your typical recyclables, cardboard, plastics, paper, and aluminum, as well as some of the harder to recycle materials, paint, electronics, building materials, are recycled or sold for reuse at Clean Valley.
From the young students to the 80 year old volunteers, residents in and around La Junta are thankful to have Clean Valley in their community and we are thankful to have them in our state. 
Learn more about Clean Valley!
FINAL STOP ♻️ Grand Junction
Over the mountains and to the Western Slope we go! What once was known as "junk town" is no more, with the incredible work by both the city and county to help change the image of Grand Junction.
Mesa County Solid Waste Management operates multiple programs to help divert waste from the landfill. Through their household hazardous waste recycling, electronic waste recycling, composting, material reuse program, and recycling programs, they support a circular economy in Colorado.
The city now runs the recycle center which provides a drop off facility as well as a newly introduced curbside pickup program for residents. The small, makeshift facility that Grand Junction operates out of has not stopped them yet from receiving more and more recyclable materials each year. Residents who use these programs joined us on the tour and shared how enthusiastic they were for the improvements to recycling and new program offerings. They believe Grand Junction is really shaping up to be a grand recycler in the west!