Recycle Colorado launches recycling education campaign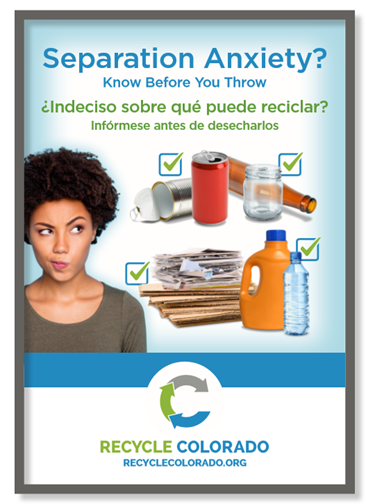 Have you ever wondered what messaging best motivates people to recycle?
Starting in August 2020, Recycle Colorado will begin a six-month education campaign to test six recycling messages intended to increase recycling collection. The ads will be bilingual (English and Spanish) and will address themes such as how recyclables are transformed into second-life products, how recycling helps preserve Colorado's great outdoors, and the importance of the recycling industry for job creation in Colorado's economy.
The campaign will be tested in three communities: Longmont, Commerce City, and Thornton. These cities were selected because each city collects the majority of its recycling through a single hauler, which allows for optimal data tracking.
The recycling messages will be advertised on Google search results, third-party websites, and outdoor bus shelters. Recycle Colorado will collaborate with the participating communities to create a digital recycling flyer and video. These educational pieces will provide residents with recycling tips, important reminders, and answers to frequently asked questions.
A different recycling message will be tested each month until the campaign ends in January 2021. As Colorado strives to enlarge its circular economy, understanding how to best frame future messaging and education will help advance this transformative initiative.
Share this post: