Find Earth Day Events in Colorado Near You!
In-Person Events
Events on Friday, April 21st
Panel, Open Mic, Delicious Food with Compost Colorado
Compost Colorado
CoCo Complex located at 4800 Washington Street, Denver CO 80216 in a large industrial warehouse space
Friday, April 21st | 6:00pm - 9:00pm
Delicious catering will be provided from some of our composting clients! From 6pm-7pm we will hold a panel discussion on holistic resource management. After the panel discussion we will host an Earth-Based Open Mic where folks such as yourselves have an opportunity to speak on the work they do in the world of sustainability, agriculture, clean energy, and conservation. This is a great opportunity to have a platform to share the work you do in and around Denver! Organizations and individuals will also have an opportunity to table at the event for some deeper outreach and conversation! CoCo will also be selling products from our Simple Swaps Shop at a 10% discount. Everyone who joins us will get entered into a raffle to win some sustainable products! We plan to cap the event at 100 attendees and everyone who carpools, takes the bus (bike, scooter, etc) can take home free compost samples!
---
Events on Earth Day, April 22nd
Earth Day After Party!
Compost Colorado
CoCo Complex located at 4800 Washington Street, Denver CO 80216 in a large industrial warehouse space
Saturday, April 22 | 9:00pm onwards!
A DJ, pizza, and compost-soil for folks to pick up!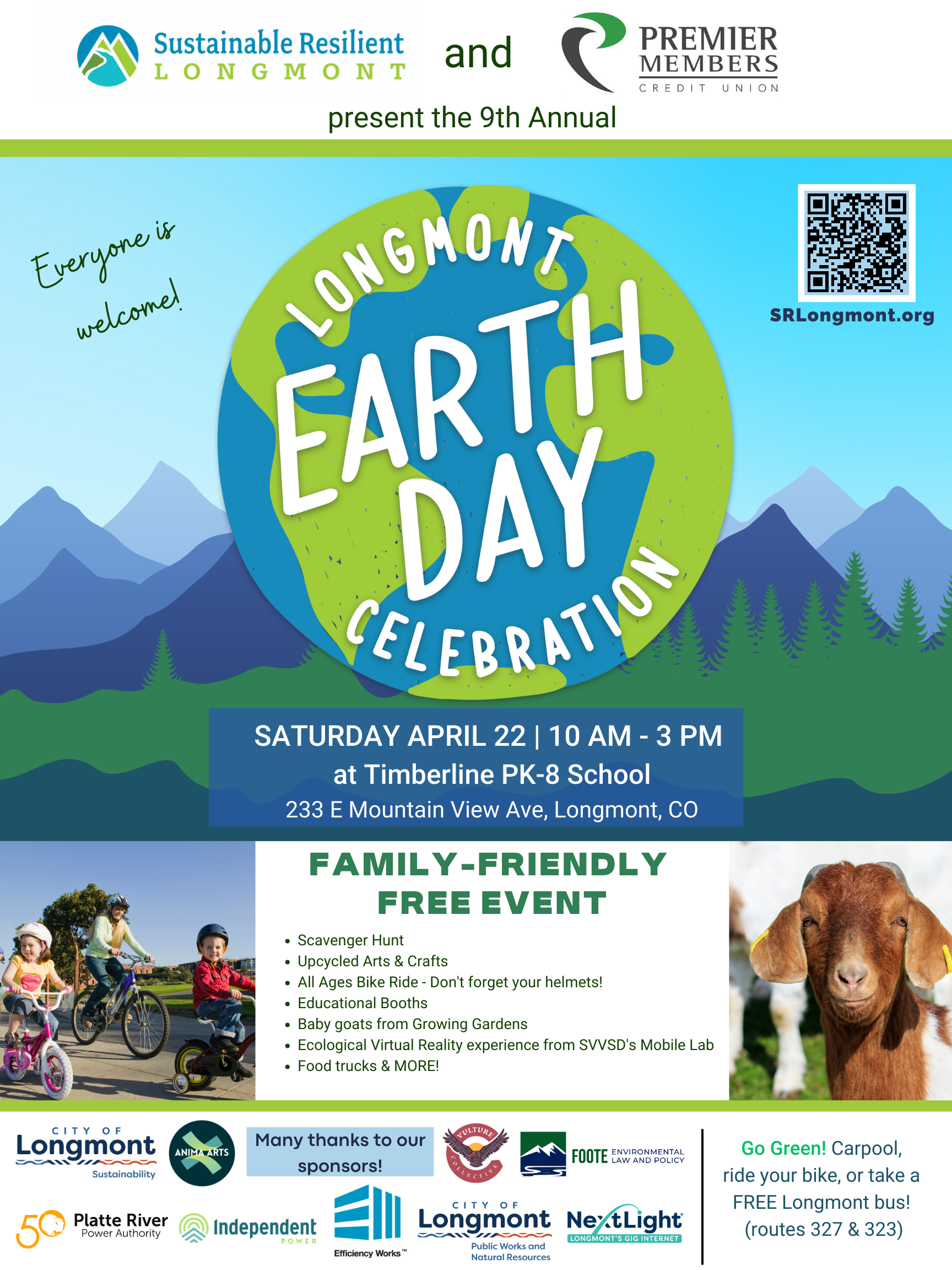 9th Annual Longmont Earth Day Celebration
Sustainable Resilient Longmont
Timberline PK-8 School
233 E Mountain View Ave, Longmont, CO 80504
Saturday, April 22 | 10:00am-3:00pm

Join us in our new community venue! This year, we'll have agricultural education on how to improve our soil and grow tasty food, while also drawing carbon dioxide out of the air. You can also learn about sustainable fashion, get your hands dirty with park mulching and cleanup opportunities, and visit dozens of booths providing fun and educational activities on how to live more sustainably.

As always, there will be fun for the whole family, with upcycled arts and crafts projects, a treasure hunt, the St. Vrainnovation mobile lab, and baby goats from Growing Gardens. We'll have music, food trucks, and more!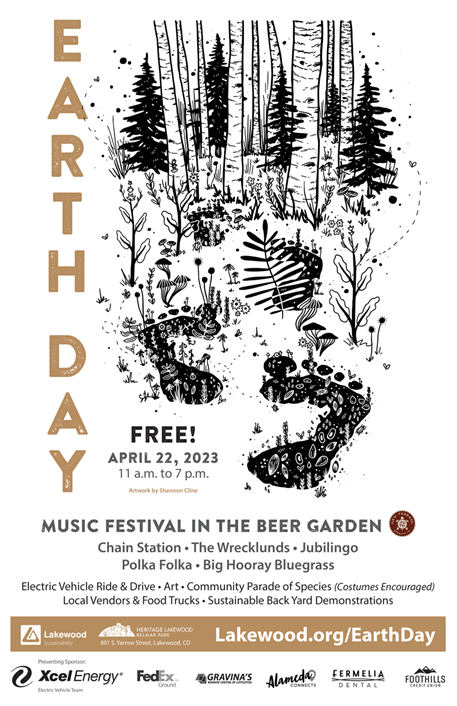 Lakewood's Earth Day Celebration
City of Lakewood
Heritage Lakewood Belmar Park, 801 S. Yarrow St.
Saturday, April 22 | 11:00am-7:00pm
The Earth Day Celebration will feature music, food, art, exhibits and activities that spread environmental awareness and bring the community together. There is something for everyone - from kids to seniors and every age in between. Everyone is invited and the event is FREE to attend! 

Here is the schedule of activities that you'll find throughout the day:
HoopFit at the gazebo at noon.
Library storytime in front of the schoolhouse at noon.
Tours of Lakewood historic buildings at 12:30 p.m. and 2:30 p.m. (meet at the event entrance).
Nature walk in Belmar Park led by one of Lakewood's park naturalists at 2:30 p.m. (meet at the event entrance).
Youth performance troupe and adult tap performers from the Lakewood Cultural Center at 2:30 p.m. at the gazebo.
Animal Yoga in front of the schoolhouse at 3 p.m.
Parade of Species at 4 p.m. (gather in front of the gazebo). Kids, adults, and pets are invited to bring or wear your favorite costume or make an animal mask at the event, decorate your wagons and strollers, bring an instrument, and march through our event in celebration of all of the animal and plant species with whom we share the earth. 
A bike valet all day-- ride your bike to the event and park for free right next to the event entrance!
The Electric Transportation Hub will feature demonstration electric vehicles, a ride-and-drive to test drive an electric vehicle from 12-4 p.m., and e-bikes to test ride from 1-5 p.m. 
---
All Earth Month Long Events
Bringing the Eco-Cycle CHaRM to You
Eco-Cycle, Superior, Lafayette, & Louisville
April 15th, 22nd, and 29th
Eco-Cycle will partner with municipalities to bring the Eco-Cycle CHaRM to you! Note that collection events are for residents of the host city only, and proof of residency will be required. Upcoming CHaRM collection events include:
Superior: Hard-to-Recycle, Household Hazardous Waste, and Mower Take-Back Event: Saturday, April 15, 9 am–1 pm, at Eldorado K–8 School, 3351 S Indiana St. Free (though some items may have a fee). Registration is required.
Lafayette: Hard-to-Recycle Collection Event: Saturday, April 22, 9 am–1 pm, at Flatirons Church, 201 Waneka Parkway. Free (though a fee will be charged for some electronics). Registration is required—space is limited!
Louisville: Spring Cleaning Event (Electronics Recycling, Household Hazardous Waste and Gas-Powered Lawn Equipment Collections): Saturday, April 29, 9 am–12 pm, Ascent Church, 550 McCaslin Blvd. By appointment only with limited slots. Registration is required.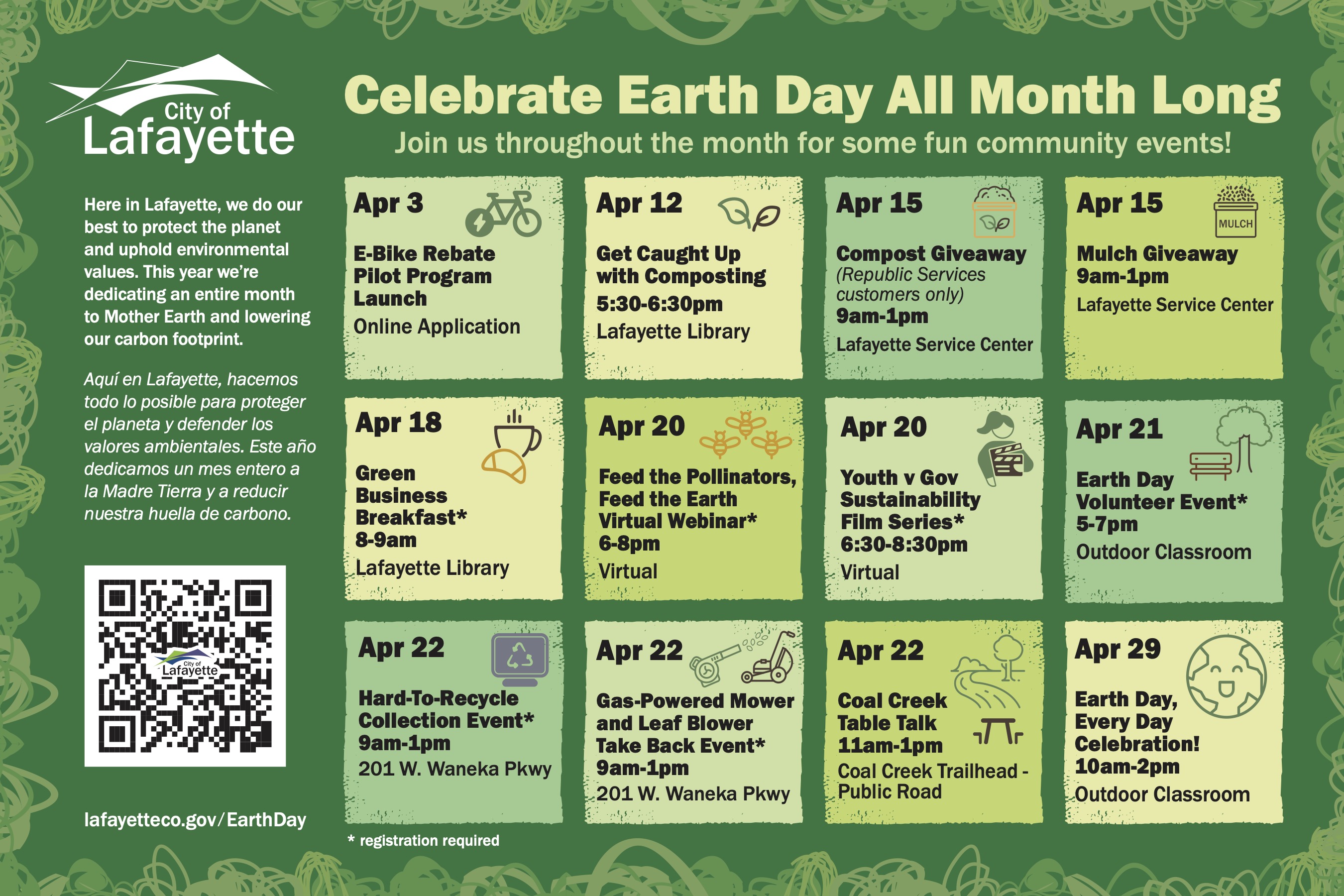 City of Lafayette is Celebrating Earth Month
April 3rd-29th
The City of Lafayette invites community members to celebrate the Earth all month long with a wide variety of activities available for residents, businesses, families, and visitors on how to reduce your environmental footprint and create a sustainable and resilient future. Join us in celebrating the Earth!

View the Calendar to see all upcoming events!
Backyard Compost Workshops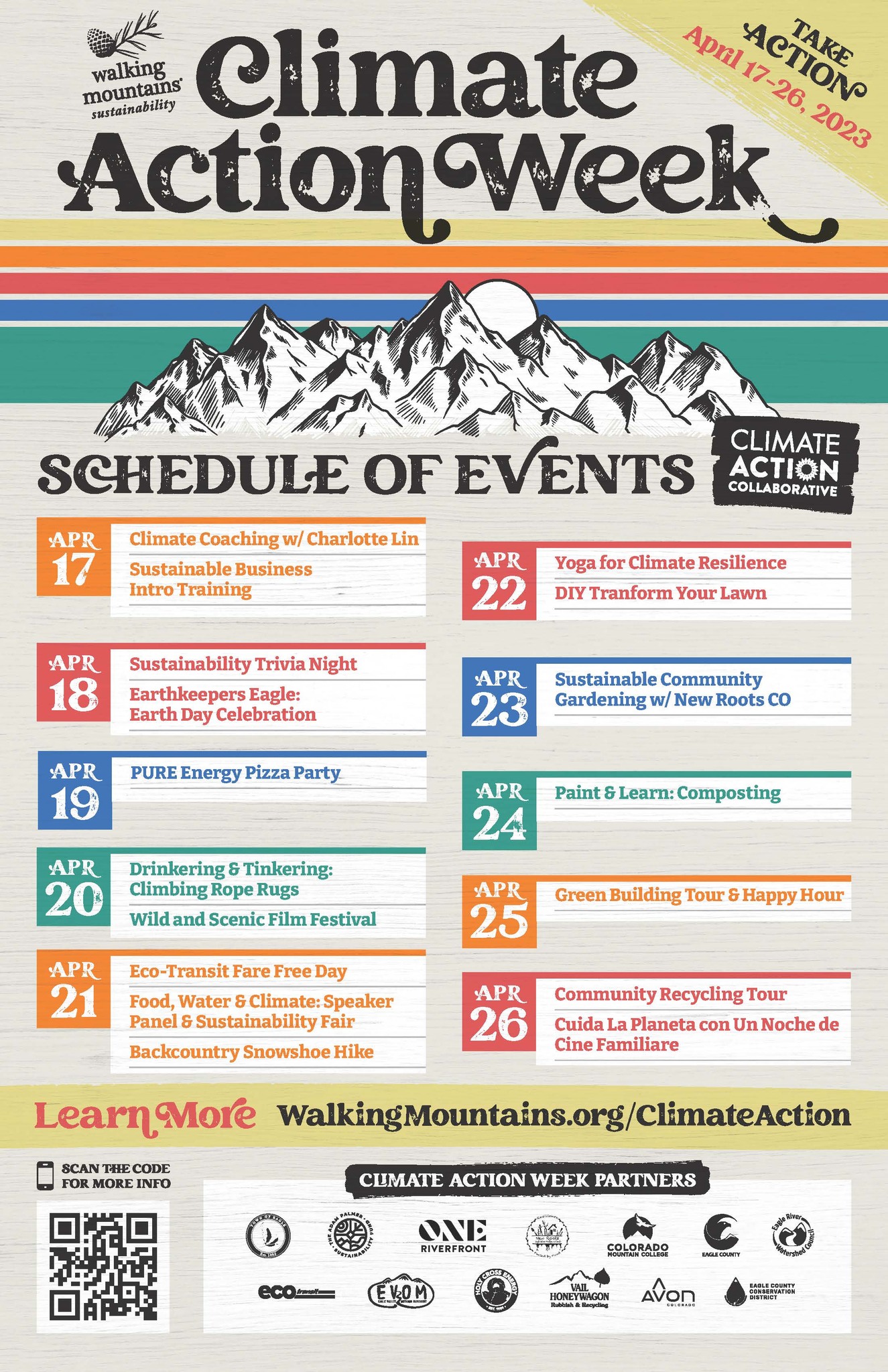 Boulder County
April 10, April 29, and May 2

How do you start and maintain a highly efficient backyard compost system? Come to one of three workshops hosted by Boulder County to learn what to feed your compost pile, appropriate bins to use, methods for our geographic region, tips and troubleshooting, and much more! Sign up for one of three backyard composting workshops here.
Climate Action Week at Walking Mountains Science Center, Avon, CO
Walking Mountains Science Center
April 17-26
Don't miss out on what some are calling the Coachella of Sustainability in Eagle County! 
---
Virtual Events
The Future of Compost in Boulder County and Beyond
Eco-Cycle
Tuesday, April 25 | 5:30pm-7:30 pm

Join Eco-Cycle for an Earth Month webinar to discuss the way forward for compost, including possibilities around infrastructure, policy, and its role as a natural climate solution. Learn what you can do to help! This webinar is for anyone in the community interested in digging in on this subject (pun intended)!